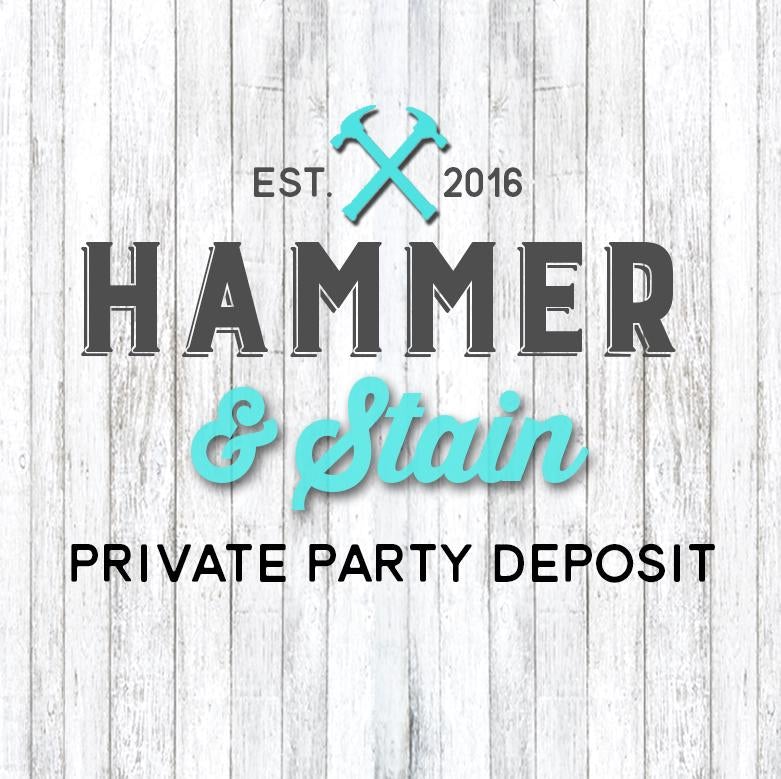 KIDS PARTY DEPOSIT
This is a deposit to reserve a

Kids Private Party

time slot!
- TERMS -

In order to secure a date/time for your private event, you MUST submit the $100 deposit. Please coordinate a date/time with us via email (hammerandstainnwi@gmail.com) BEFORE submitting your deposit or a reservation CANNOT be guaranteed. 
As the hostess, YOU are responsible for inviting guests and making sure they register by your workshop deadline. The deadline for all guests to register will be listed on your unique sign up link. 

All deposits are eligible to count towards your party, OR a full refund after your event! To get your full deposit back, your party must not be canceled or rescheduled. If you cancel or reschedule your party for any reason your deposit will be FORFEITED. If you choose to reschedule your party, you will have to submit a new one for the new date.
Once your deposit has been paid, you can let us know if you have a theme or a certain age of kids for the designs offered, and we will set up your exclusive registration link with various options. (For example: mermaid themed party, or, 12 y/o boys and girls)
Packages/projects to choose from are as follows

Your group will have exclusive access of our workshop for 3 hours on the date and time you have reserved. Your party will start PROMPTLY at the time noted. All guests that plan to attend must register by the deadline or they cannot attend! ONLY those who have a registered seat & project can enter the studio, plus TWO non-registered adults to chaperone, so please be sure everyone signs up!
Projects are custom made per the order. Once someone has registered and picked their design absolutely no changes can be made. Please make sure everyone understands this. 
*** TYPE YOUR DATE AND START TIME IN THE BOX PROVIDED BELOW.
*** IF WE ARE GOING OFFSITE, PLEASE ALSO INCLUDE THE PARTY ADDRESS SO WE CAN CALCULATE YOUR TRAVEL/SETUP FEE!
Regular price $100.00 Sale
Terms
Once your order has been submitted we are immediately beginning the preparation process of your unique order. NO changes can be made, NO refunds will be issued. If you would like to cancel your reservation, you must give a minimum of 48 hour notice. Please note a refund for your reservation will be given in the form of a studio credit, packed up as a take-home kit, or we can hold your project for no more than 60 days to be completed at a later date. If your project remains with us after day 60, your payment is forfeited and project goes on our sale shelf. Same day cancellations or no-shows will NOT be eligible for a refund studio credit; your payment and project will be forfeited. Cancellations will be processed on the day we receive your cancellation request. It may take up to 2 weeks for the refunded studio credit amount to be awarded. Hammer & Stain reserves the right to make any amendments to this policy at any time. Notification of any changes will be published on this page. If you have any inquiries regarding cancellations or any of our other policies please contact us.