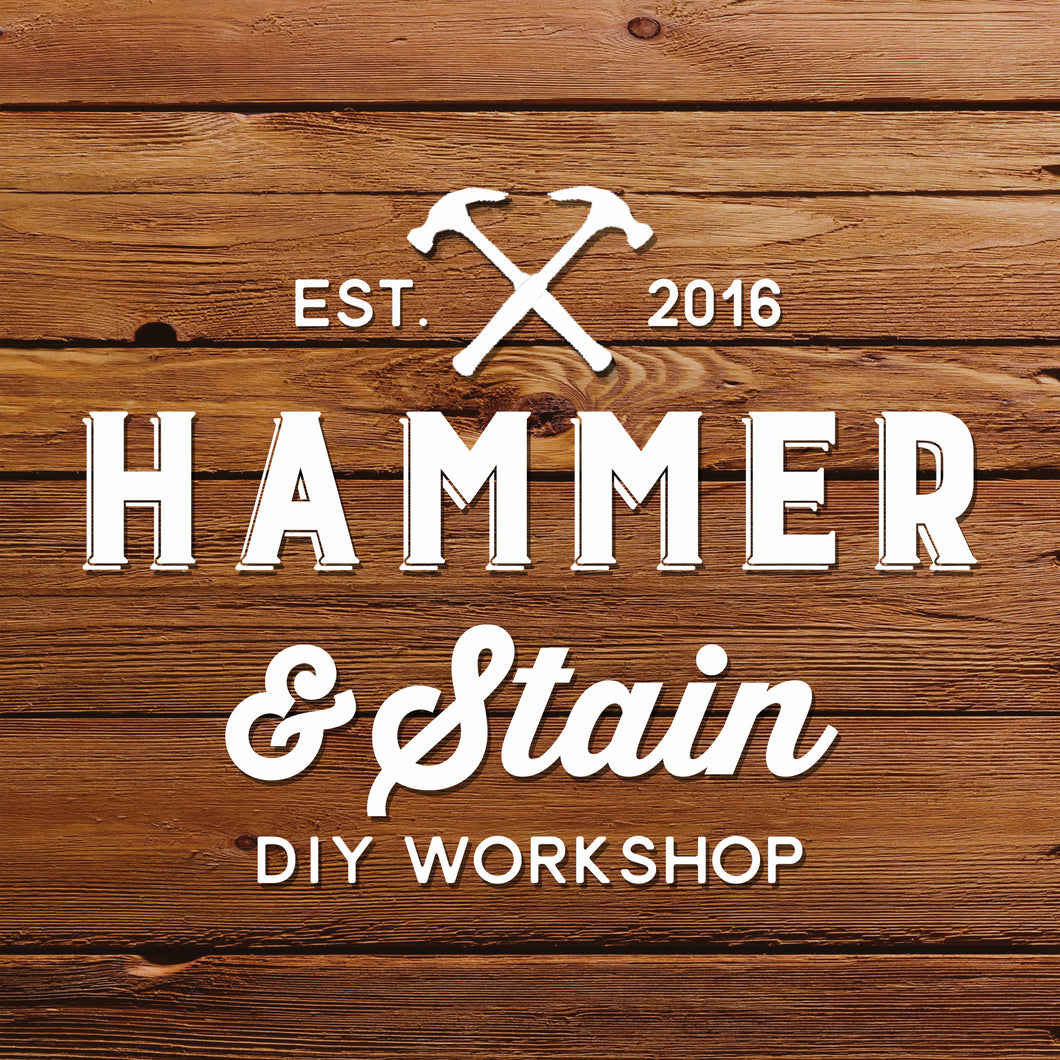 FUNDRAISER DEPOSIT
Raising money for your favorite non-profit organization is easy and fun when you host a fundraising event at Hammer & Stain. Your supporters will have a blast raising funds for your cause!


There are no physical tickets to sell. We handle all payment transactions through our online registration system. Your supporters will sign up directly on our website under your fundraiser's workshop link that we send you.
- Your event date and start time MUST BE APPROVED before placing your deposit, or your date will NOT be guaranteed.
- You must submit a deposit of $75 to make a time slot reservation, which will be refunded after the event only if the minimum is met and event is not cancelled.
- We require a minimum of 12 people  (20 people if the event is off-site.)
- Failure to meet the minimum # of people, or cancelling the event results in a FORFEIT of deposit. If you choose to reschedule the event at any time for any reason, your deposit will be forfeited and you will need to submit a new deposit for the new date.
- We do not charge any extra fees for off-site fundraisers. You simply need to have permission to use the location and for us to host the event there.
If we are traveling off-site for your event

, please type in the address in the notes at checkout
BEFORE CONTINUING, MAKE SURE YOU HAVE THOROUGHLY READ ALL OF THE INFORMATION ON THE PREVIOUS PAGE!
Regular price $75.00 Sale
Terms
Once your order has been submitted we are immediately beginning the preparation process of your unique order. NO changes can be made, NO refunds will be issued. If you would like to cancel your reservation, you must give a minimum of 48 hour notice. Please note a refund for your reservation will be given in the form of a studio credit, packed up as a take-home kit, or we can hold your project for no more than 60 days to be completed at a later date. If your project remains with us after day 60, your payment is forfeited and project goes on our sale shelf. Same day cancellations or no-shows will NOT be eligible for a refund studio credit; your payment and project will be forfeited. Cancellations will be processed on the day we receive your cancellation request. It may take up to 2 weeks for the refunded studio credit amount to be awarded. Hammer & Stain reserves the right to make any amendments to this policy at any time. Notification of any changes will be published on this page. If you have any inquiries regarding cancellations or any of our other policies please contact us.