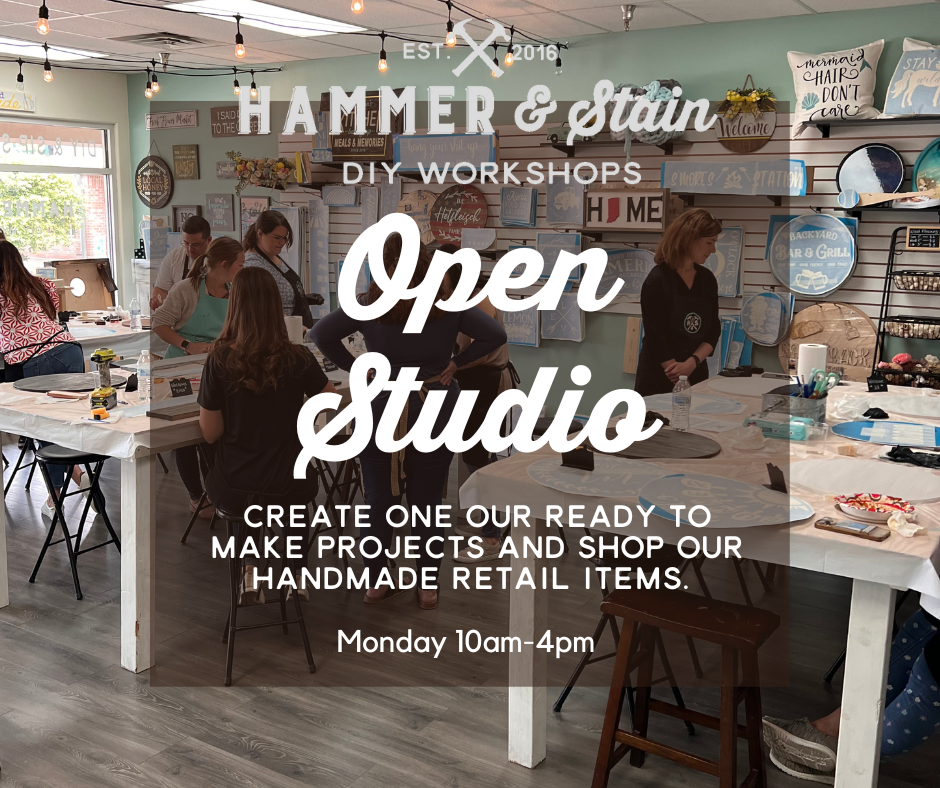 11/13/23 Monday Open Studio 10am-4pm
 Start off your week with some DIY fun at Hammer & Stain NWI 🎨🖌 We added MONDAY as a new open studio day to our schedule! Stop by on Monday anytime between 10am-4pm.
Come in and create a handmade gift or DIY a project for your home - NO RESERVATIONS NEEDED!  We will have everyday and fall projects available to create. 
Plus, you can now shop our handmade retail items when you stop in!
Are you looking for something specific to create? We got you! Browse our project gallery or simply email us what your vision is and we can help bring your vision to life!
***PLEASE NOTE CUSTOM ORDERS AND REQUESTS NEED TO BE SUBMITTED AND PAID FOR IN ADVANCE ONE WEEK PRIOR TO OPEN STUDIO DATE SEND EMAIL TO NWIHAMMERANDSTAIN@GMAIL.COM***
If you are running tight on time or rather create at home we can always package up your project as a Hammer @ Home kit that includes all the paints and supplies needed to create your project.
**KID FRIENDLY & Adult projects available**
PLEASE NOTE that all who choose to stay and create at our studio must make a project (with the exception of an adult accompanying a child) of 4 or under who needs to assist and help them with their project). 

Terms
Once your order has been submitted we are immediately beginning the preparation process of your unique order. NO changes can be made, NO refunds will be issued. If you would like to cancel your reservation, you must give a minimum of 48 hour notice. Please note a refund for your reservation will be given in the form of a studio credit, packed up as a take-home kit, or we can hold your project for no more than 60 days to be completed at a later date. If your project remains with us after day 60, your payment is forfeited and project goes on our sale shelf. Same day cancellations or no-shows will NOT be eligible for a refund studio credit; your payment and project will be forfeited. Cancellations will be processed on the day we receive your cancellation request. It may take up to 2 weeks for the refunded studio credit amount to be awarded. Hammer & Stain reserves the right to make any amendments to this policy at any time. Notification of any changes will be published on this page. If you have any inquiries regarding cancellations or any of our other policies please contact us.