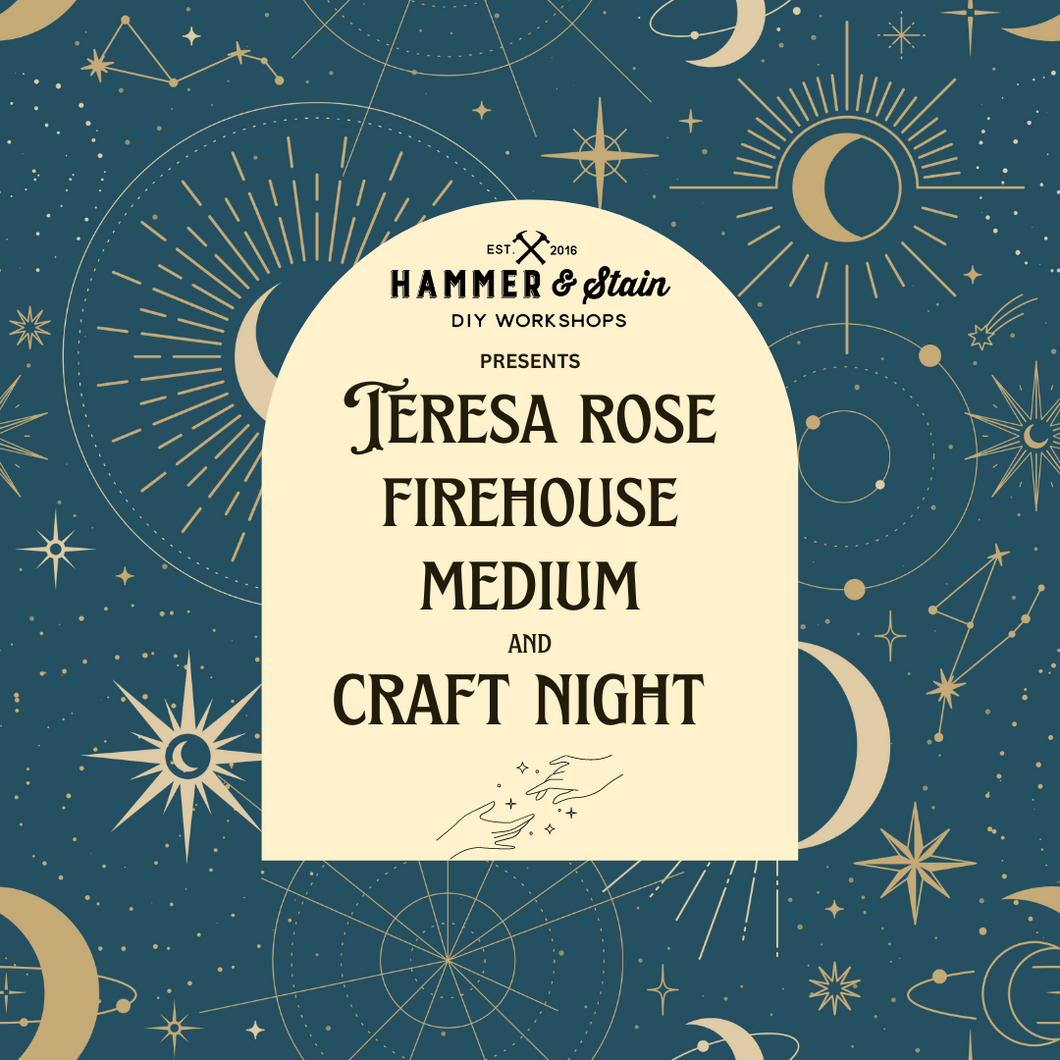 11/30/23 Teresa Rose Firehouse Medium Night (Thursday @ 6:30pm)
We are so excited to bring a NEW and unique experience to our makers! 
Join us on Thursday October 12th at 6:30pm at Hammer & Stain NWI for amazing and unique evening with Teresa Rose Firehouse Medium.This unforgettable night will include a group reading and a 8" square zodiac sign project.  You will also be able to customize your project in studio with your choice of stain & paint colors. 
This registration will allow for one adult to make a project and group reading.  BYOB wine or beer to sip and snacks to enjoy during the workshop. This event is 21+ We have LIMITED seating for 10 to ensure everyone has a an unforgettable experience. 
About Teresa
Teresa Rose born and raised in Northwest Indiana, she has had the ability to see and feel spirit since childhood. Teresa worked her passion as a Firefighter for many years, after a series of life changing events including the passing of her father she knew her next journey, calling, and passion in life is helping people connect with their loved ones in spirit.
Teresa works as a evidential medium assisting countless people with healing, grief, and forgiveness. She has the ability to provide evidence that we are eternal and our loved ones are still with us in spirit and that there is life after physical death. For more info about Teresa check out her Facebook page!
This is a collaboration workshop therefore no refunds/credits will be given if you are unable to attend event. 

How to Register:
Select project from dropdown.
If you would like to sit next to someone please list the name(s) in the box.
In the personalization box, please list your zodiac sign.
Checkout!
Regular price $85.00 Sale
Terms
Once your order has been submitted we are immediately beginning the preparation process of your unique order. NO changes can be made, NO refunds will be issued. If you would like to cancel your reservation, you must give a minimum of 48 hour notice. Please note a refund for your reservation will be given in the form of a studio credit, packed up as a take-home kit, or we can hold your project for no more than 60 days to be completed at a later date. If your project remains with us after day 60, your payment is forfeited and project goes on our sale shelf. Same day cancellations or no-shows will NOT be eligible for a refund studio credit; your payment and project will be forfeited. Cancellations will be processed on the day we receive your cancellation request. It may take up to 2 weeks for the refunded studio credit amount to be awarded. Hammer & Stain reserves the right to make any amendments to this policy at any time. Notification of any changes will be published on this page. If you have any inquiries regarding cancellations or any of our other policies please contact us.