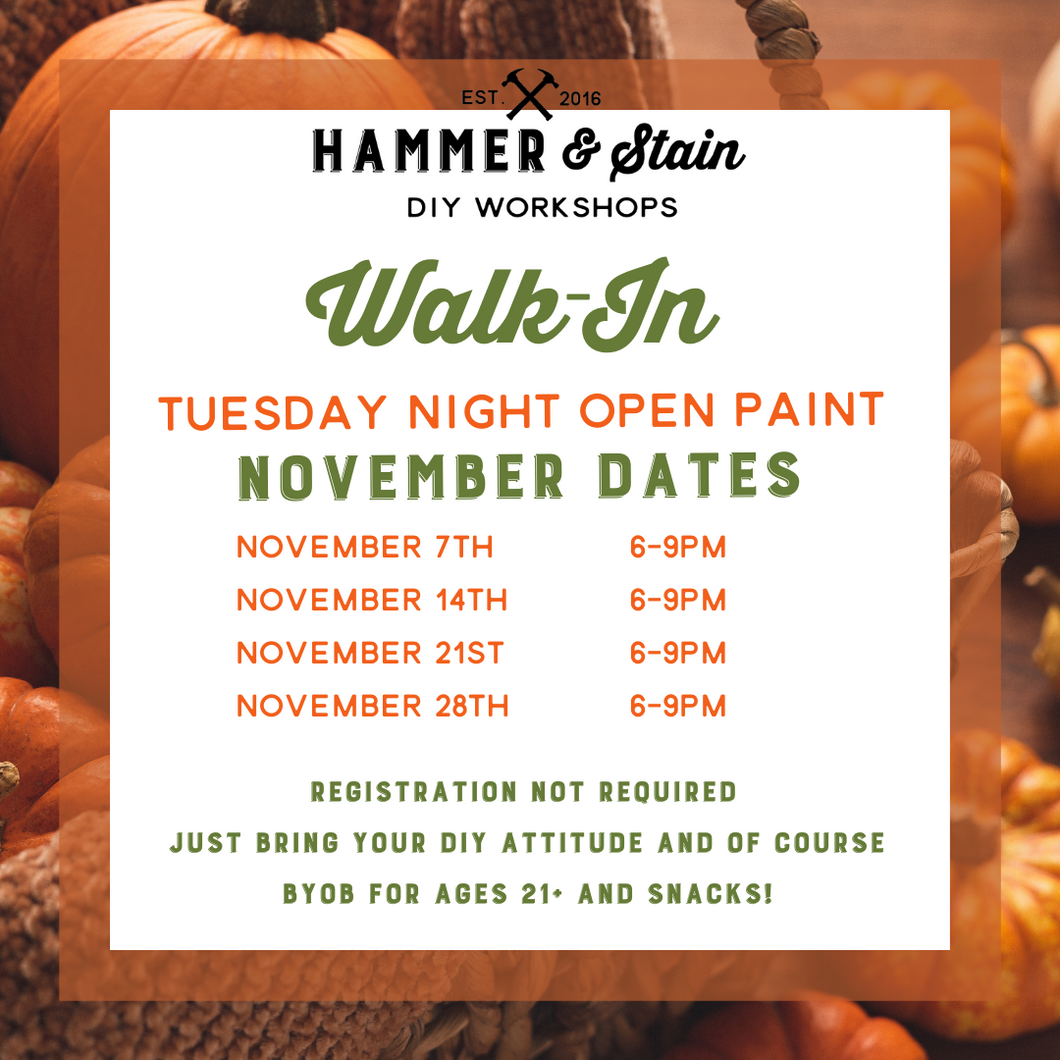 11/14/23 Tuesday Night Open Paint 6pm-9pm
Join us at the studio on Tuesday November 14th  from 6-9pm for some DIY fun! We have options for anyone and everyone, all ages and decor tastes :)
How it works:
1. Select a time slot - 1.5 hrs. Walk-ins are welcomed, but if your seat is not reserved in advance your seat availability will be based on our capacity and other pre-registered seats.
2. Adjust your quantity at check-out for how many people you are coming with. 
3. You will pick a project/design from our prepped selection when you get here! Items change frequently so it's a first-come-first-serve basis.  Prices vary between $10-$85. (We accept cash & card in studio).
4. We guide you through our step-by-step process to create a beautiful piece at your own pace!
************************************************************************
If you know what you would like to make already, or if you require a personalized / custom design, it MUST BE ORDERED AND PAID FOR 1 WEEK IN ADVANCE.
Please contact us via email and we will assist you!!
nwihammerandstain@gmail.com
************************************************************************ 
Terms
Once your order has been submitted we are immediately beginning the preparation process of your unique order. NO changes can be made, NO refunds will be issued. If you would like to cancel your reservation, you must give a minimum of 48 hour notice. Please note a refund for your reservation will be given in the form of a studio credit, packed up as a take-home kit, or we can hold your project for no more than 60 days to be completed at a later date. If your project remains with us after day 60, your payment is forfeited and project goes on our sale shelf. Same day cancellations or no-shows will NOT be eligible for a refund studio credit; your payment and project will be forfeited. Cancellations will be processed on the day we receive your cancellation request. It may take up to 2 weeks for the refunded studio credit amount to be awarded. Hammer & Stain reserves the right to make any amendments to this policy at any time. Notification of any changes will be published on this page. If you have any inquiries regarding cancellations or any of our other policies please contact us.